Dear Kelly Ripa: Yes, Women Can Use DUDE Wipes
In the midst of the recent toilet paper shortage, Ryan Seacrest offered a glimmer of hope for millions of worried wipers on his talk show, LIVE with Kelly and Ryan. Seacrest pulled out a pack of DUDE Wipes, reminding viewers that they no longer needed to scour supermarket shelves for glorified sandpaper.
Co-host Kelly Ripa seemed intrigued by our flushable wipes, but countered with a valid question:
"Now, can a lady use a DUDE wipe or are they solely for dudes?"
Seacrest stumbled with his response, stating he had "no idea." Accordingly, DUDE HQ got bombarded with questions from curious women wondering whether our wipes were a viable option for them, considering the circumstances.
DUDE Wipes initially gained traction as man's refuge from under-sized and over-scented baby wipes. But despite our namesake, we're in the business of keeping all butts fresh as f***.
For any uninitiated women out there, DUDE Wipes are fragrance-free, plant-based, larger than baby wipes, and even come in discreet travel-friendly single packs. They're not laced with testosterone and you don't need a man card to buy them. No wonder so many women are making the switch. In fact, women have been using DUDE Wipes for years.
In 2012, DUDE co-founder Sean Riley told The Chicago Tribune that women were obsessed with our wipes at North Coast Music Festival. "They were buying them by the handful and shoving them into their purse," said Riley.
If you're still not convinced, ask UFC fighter Justine Kish who became a fan of DUDE Wipes after pooping herself mid-fight. It just goes to show, shituations do not know gender.
UFC won't let us sponsor your butt, but we can send you all the wipes you'll ever need

— DUDE Wipes (@DUDEwipes) June 26, 2017
Or take it from a random Amazon reviewer, Beth: "I am a 53 year old "dudette" who found the perfect product at a critical time of need...These wipes are perfect the way they are for both genders so no need for adding perfumes or scented options please and thank you, they are just right."
For reference, DUDE Wipes aren't the only male-centric bathroom product that women have adopted. Just consider the countless women who love to wear men's deodorant. Why? Better price, better protection. The parallels are uncanny...
Bottom line: DUDE doesn't discriminate, especially during a pandemic. Humanity is long overdue to take a stand against toilet paper anyway. It causes anal injuries, it doesn't clean you up, and most recently, it prompted a man to punch his mother.
So, to our friend Kelly Ripa and women worldwide: go ahead and wipe away with DUDE Wipes. There's still plenty of room on this bandwagon.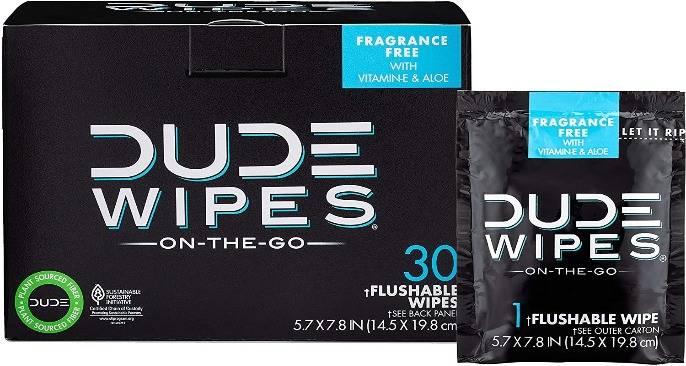 Click to read more posts in this category