The 8 Most Innovative Ways To DUDE Powder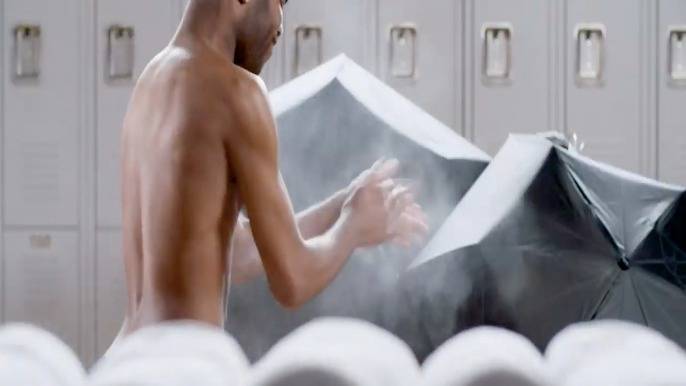 During our product development process, we discovered a number of innovative DUDE Powder application techniques we think will revolutionize the industry. We've decided to share these never before seen techniques with our fellow DUDES, in the interest of spreading the gospel of powder.
1. The Classic
Batting leadoff is the tried and true classic technique. Passed down over the years, this is how your grandfather would prepare for the day after a lukewarm, businesslike shower. Now that we have you picturing your grandpa showering, let's move on.
2. The Donut Duster
During our comprehensive tests, the Donut Duster was the most effective technique for dusting the boys in fresh DUDE pow. However, the real world application of this technique was found to be limited. First, you'd have to buy something called a dredge shaker. Second, you'll have to display said shaker in your bathroom or carry it around in your gym bag, surely arousing weird looks among your friends, family, and fellow DUDES.
3. The Drive By
Got a close pal handy? One that wouldn't mind giving your nether regions a solid dusting? Then the Drive By is for you. Some doubters question the efficacy of this technique, but its benefits can be found in the unique angles a fellow DUDE can use to hit all your real estate.
4. MMA Swag
Whether you're getting hyped up for a 9 AM conference call or displaying your dominance in the locker room, the MMA Swag technique is effective for bringing out your inner alpha dog.  
5. Tropic Breeze
We recently noted the benefit of keeping those winter blues at bay with a daily application of Tropic Breeze DUDE Powder. You can take your powder ritual to the next level with the Tropic Breeze technique. Requiring only a fan, this technique can air dry your third pit while providing your nether regions with the dusting they crave.
6. The G.O.A.T.
We may be showing some hometown bias here (sorry Lebron), but I think we all know who the GOAT is. This technique is an homage to Michael Jordan's infamous chalk ritual before games. If you want to be the best, you have to prepare like the best.
This is another homage, this time taking creative license from the great Salt Bae, the Turkish chef whose meat preparation almost melted the internet.
If you're looking to increase your swag quotient after your morning shower, we can think of no better icon to emulate than Salt Bae.
8. The Kevin
Last, we have the Kevin. If your parents recently forget to bring you on a vacation, or your house is being infiltrated by uniquely incompetent burglars, this powder application technique is for you. We've found the yelling can be a wonderful stress reliever.
Whatever technique you choose, your boys will appreciate giving them the stank protection they deserve. Unlike most body powders, Tropic Breeze DUDE Powder is talc free and infused with natural odor fighting ingredients like vitamin E & aloe. Cancel chub rub, swamp ass, and junk funk for good, and keep your third pit light and breezy with DUDE Powder.
Click to read more posts in this category