DUDE Wipes Shark Tank Update, Where Are We Now?
Since October 16, 2015, the night we appeared on ABC's primetime hit tv show, reality series Shark Tank, a lot has happened at DUDE HQ, including throwing out the first pitch for the Chicago White Sox!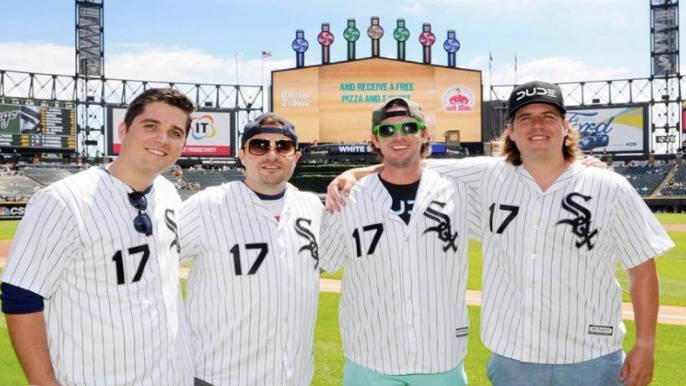 To refresh your memory, the DUDE startup co-founders nearly secured a deal with Shark Tank tycoons Robert Herjavec and Kevin O'Leary. The co-founders and the investors went back and forth, nearly settling on a deal. Meanwhile, Daymond John and Barbara Corcoran were skeptical about DUDE Wipes. But when billionaire Mark Cuban came back with his offer, the contestants promptly accepted.
Mark Cuban gave us a shout out on Good Morning America and we appeared in the Chicago Tribune, Business Insider, Forbes, Inc., WGN Radio, Bustle, Shark Tank Podcast, and AmericanInno.com.
During the 2016 World Series in Chicago, there were several sightings of a DUDE Wipes sign at Wrigley Field. The internet took notice, and Barstool Sports ranked Dude Wipes as the best sign of the weekend. Some people are saying it helped break the curse.
In October 2016, we announced a deal with Target for DUDE Wipes to appear on shelves in over 75 Chicagoland and Central Illinois stores. DUDE Products are now in 500 Target stores across America.
We also released our viral "Take It To The Hole" video, featuring a cameo from Cuban himself, which has over 1 million views on Facebook and over 200K views on YouTube.
Then we made our second appearance on Shark Tank, where we closed a retail deal with Walgreens, putting DUDE Products in over 4,300 stores. Our second appearance was covered by Inc., WGN Radio, and American Inno. Since we made our deal with Mark in 2015, we went from $250,000 in sales to $3.2 million in less than two years.
From $250,000 to $3.2 Million in sales, @DUDEwipes has become a national success! #SharkTank pic.twitter.com/3ikYtzpKtb

— Shark Tank (@ABCSharkTank) April 11, 2017
Our work with MMA fighters continued, when Justine Kush pooped herself in the ring during a UFC fight. We couldn't sponsor Justine's trunks as we did with Tyrone Woodley because the UFC has since banned it, but we were able to send Justine a boatload of DUDE Wipes for her trouble.
We also heard the crappy story Arizona Diamondbacks reliever Archie Bradley told the Yahoo! MLB Podcast, where he sharted himself shortly before entering a game. Archie was taking a "nervous pee" before his appearance when the shart attack occurred, requiring him to clean up the mess after his outing ended. DUDE HQ sprung into action, giving him enough DUDE Wipes to keep him pitching clean innings for the rest of the season.
We weren't done making our mark on the sports world. If you told us we'd ever have the opportunity to be the primary sponsor for a NASCAR driver, let alone a guy whose nickname is DiBurrito, we would have laughed in your face. Not in a million years. But that's exactly what happened with the No. 32 Ford driven by rising-star Matt DiBenedetto at the Gander Outdoors 400 at Pocono Raceway.
Not satisfied with making our mark on two major sports leagues in one year, we sprang into action to back New York Jets running back Isaiah Crowell when he was fined by the NFL for his butt wiping touchdown celebration against the Cleveland Browns. The story blew up, with ESPN, Barstool Sports, Sports Illustrated, Yahoo Sports, The Washington Post, New York Post, and Bleacher Report all covering the story. A proper wipe should never be a punishable offense.
Today DUDE is now in over 12,000 total stores, including Kroger, Meijer, Jewel, Target, Safeway, Albertsons, and Walmart. Walmart now offers DUDE Wipes in 4,400 stores across the US in a rollout that began in June 2018. So in case you haven't noticed, DUDE Wipes are taking over the toilet paper aisles of some of your favorite stores.
For our online shopping DUDES, Amazon selected DUDE to be one of 150 brands for their Amazon Dash button rollout.
But wait, there's more. We've also been hard at work, making more products to keep DUDES fresh. Since Shark Tank, we've released three new flagship products, the DUDE Shower, DUDE Face Wipes, and DUDE Powder.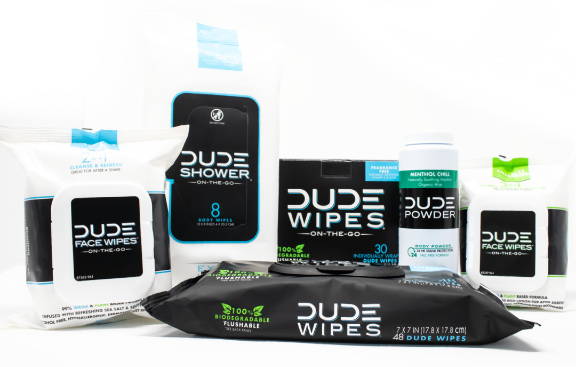 With this newfound attention and the amazing support from Mark Cuban and DUDE Nation, we've grown from $250K in revenue pre-Shark Tank to tens of millions in sales since our Shark Tank episode aired! That's over 40x increase in overall sales in the 30 months since Mark invested in us.
We had a blast doing Shark Tank, and our partnership with Mark and his team has been a big part of our growth since the show.
We call it "The Mark Cuban Effect."
Mark has invested almost $20 million in various companies on Shark Tank over the years, and you can see the value he brings by how they take off after the deals:
Mark and his team are always available to us. Whether it's advice or connecting us with a key contact, their door has always been open and we couldn't be more appreciative of that.
While the last couple of years have been crazy, we feel like we are just scratching the surface of our potential as a company. Thanks for being a part of the ride!
Click to read more posts in this category