DUDE Wipes Dominates NASCAR at Pocono Raceway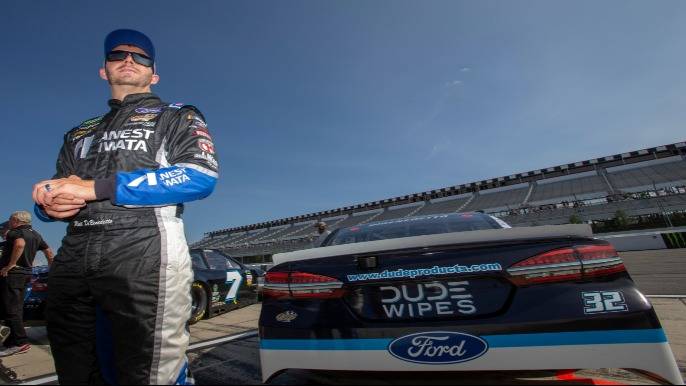 When the DUDE brain trust heard a NASCAR driver whose nickname is DiBurrito was looking for a new lead sponsor, we knew we had to get a spot at the starting line.
After talking with the Go Fas Racing team, we signed on to be the primary sponsor for the No. 32 Ford driven by rising-star Matt DiBenedetto at the Gander Outdoors 400 at Pocono Raceway. It turns out Matt had seen the DUDES when we appeared on Shark Tank and both he and his wife were recent converts to the DUDE Wipes experience.
The Go Fas Racing team were great hosts and had the No. 32 Ford looking very DUDE before the race.
Unfortunately, No. 32 finished 27th at the Gander Outdoors 400, after the last restart didn't go as planned.
Had a decent car today but the last restart didn't work out well at all and I had to check up bigtime which cost us a lot of position. But had a great time with the guys from @DUDEwipes and hope to work with them much more moving forward!

— Matt DiBenedetto (@mattdracing) July 29, 2018
Regardless, the DUDES had a great time supporting Matt and the Go Fas team from pit row.
We also handed out 10,000 DUDE Wipes to the NASCAR faithful in the infield, ensuring everyone stayed fresh during the 3 hour 5 minute long race.
After the race, Forbes reported Matt got into it with Aric Almirola for a bold move Almirola made on his DUDE Wipes Ford late in the race. No punches were reported thrown, but we're assuming Matt got his point across.
When you're stuck in a car for hours at a time, you need a quick way to clean up and get fresh. Like Matt DiBenedetto, we're always on-the-go, which is why we created DUDE Wipes in the first place — to keep our DUDE regions on point — no matter the shituation.
The next time you're driving for a long haul, make sure to pack some DUDE Wipes — we promise you'll have a clean trip, even if you ate a burrito before you hit road.
Click to read more posts in this category